PARKING FOR THE MIDWEST MARCH FOR LIFE
Handicapped parking is available across from the Capitol on the Selinger lot at St. Peter's Church, 216 Broadway St 
Look for Red Handicapped Sign
There are several parking lots below the Capitol on Main St., High St. and McCarty St. that have spots available. Check the Capitol Complex Parking Map on the website.
Look for Red "MidWest March for Life" signs 
The city has metered parking as well as the Municipal Parking Garage at 200 Madison St. 
Parking is also available behind the Baptist Building at 400 E. High St. and on the adjacent Lots 15 and 16.
TROLLEY/SHUTTLE INFORMATION
See Map for Trolley Pickup/Parking. Main Trolley Pick Up and Drop Off location is shown on map.  Look for Trolley Shuttle signs.  Gratuity for driver is appreciated.
Think– taking trolley to get to the Capitol expeditiously, take your time during the day and take trolley back or walk back.  The parking is easy and plentiful. Basically, get parked and head over to the green Trolley Shuttle signs!
The Trolley/Shuttle will run continuously from 7:00 am – 10:00 am, and 2:30 pm – 3:30 pm. 
First Pickup Location: Lots behind by the Missouri Baptist Convention Building, 400 E High St. There will be lots of signage.
Look for green Trolley Shuttle sign and see map below.  Note: It is 4 blocks from the Capitol back to the Baptist Parking lot and city lots 15 and 16 an easy walk back if you wish to leave earlier.
Second Pickup Location:  Lot 12 at the corner of Missouri Blvd and West Main St. (2 long blocks from Capitol)  Look for Trolley Shuttle sign.
All will be dropped off and picked up for return on the North side of the Capitol facing the river.
This is the only pick up and drop off at the Capitol.  Look for red MidWest March Shuttle signs.
PARKING FOR BUSES AT THE CONCORD BAPTIST CHURCH PARKING LOT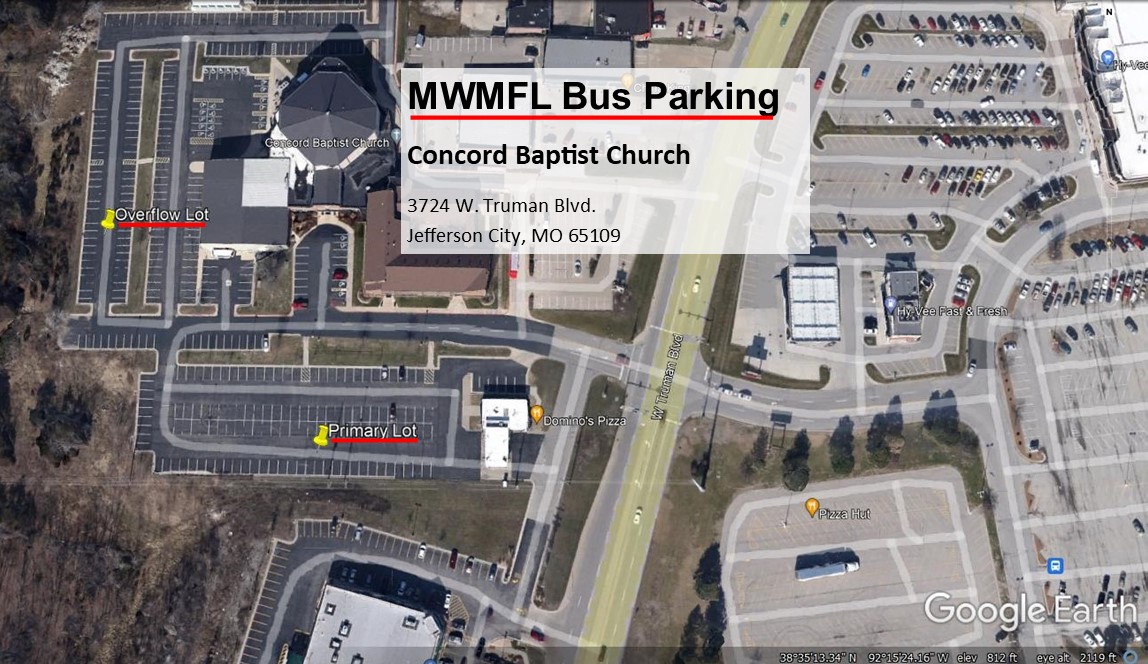 Lodging Recommendations
Holiday Inn & Suites Jefferson City
T:  573.658.9077   
D: 573.658.9134   
F: 573.658.9078
HolidayInn.com/JeffersonCity
Block of Queen Executive rooms and King executive rooms for arrival 04/25/23 to departure of 04/26/23 or 04/27/23 at the rate of $125.00,
block code is (MFL) 
Guests can call direct reservation line (573) 658-9077 to reserve their rooms or visit website [//
IHG.COM
]
IHG.COM
and select the Jefferson City Missouri property. 
Food and Beverage information:
Cheerleaders Pub and Grill will be open for take out orders breakfast and dinner VIA QR codes located throughout the hotel.